members
Tatiana Ryan

Mechiel Nieuwoudt

Evrim Ceren Kabak
our projects
SwingerFuge

FixiFuge

WhirliFuge
In humanitarian and disaster relief scenarios, there might not be electricity available to run centrifuges for diagnostic tests. With this in mind, we decided to create a two-phase solution to enable medical personnel to conduct reliable blood tests in the field without the need of electricity or bulky specialised equipment. Handy-Fuge is a 3D printed device that is designed to operate as both a drill powered centrifuge or manually driven centrifuges. The DrillFuges, powered by a bench drill does not require the use of a drill bit to ensure universality. The WhirliFuge is powered by torque created through tangling a string and utilising the elasticity potential of the string to propel the centrifuge. Both solutions require samples to be aliquoted in 1.5 mL Eppendorf tubes.
This design allows for the blood vials to swivel up and down with the motion of the drill to minimise mixing of the separated blood when stopping the drill. This design incorporates screws, nuts, and washers that are easily obtained in a hardware store to ensure the longevity of the part. This design can be used with either a bench drill or a hand drill; however, the hand drill may require longer centrifugation time due to a decrease in the revolution per minute capabilities.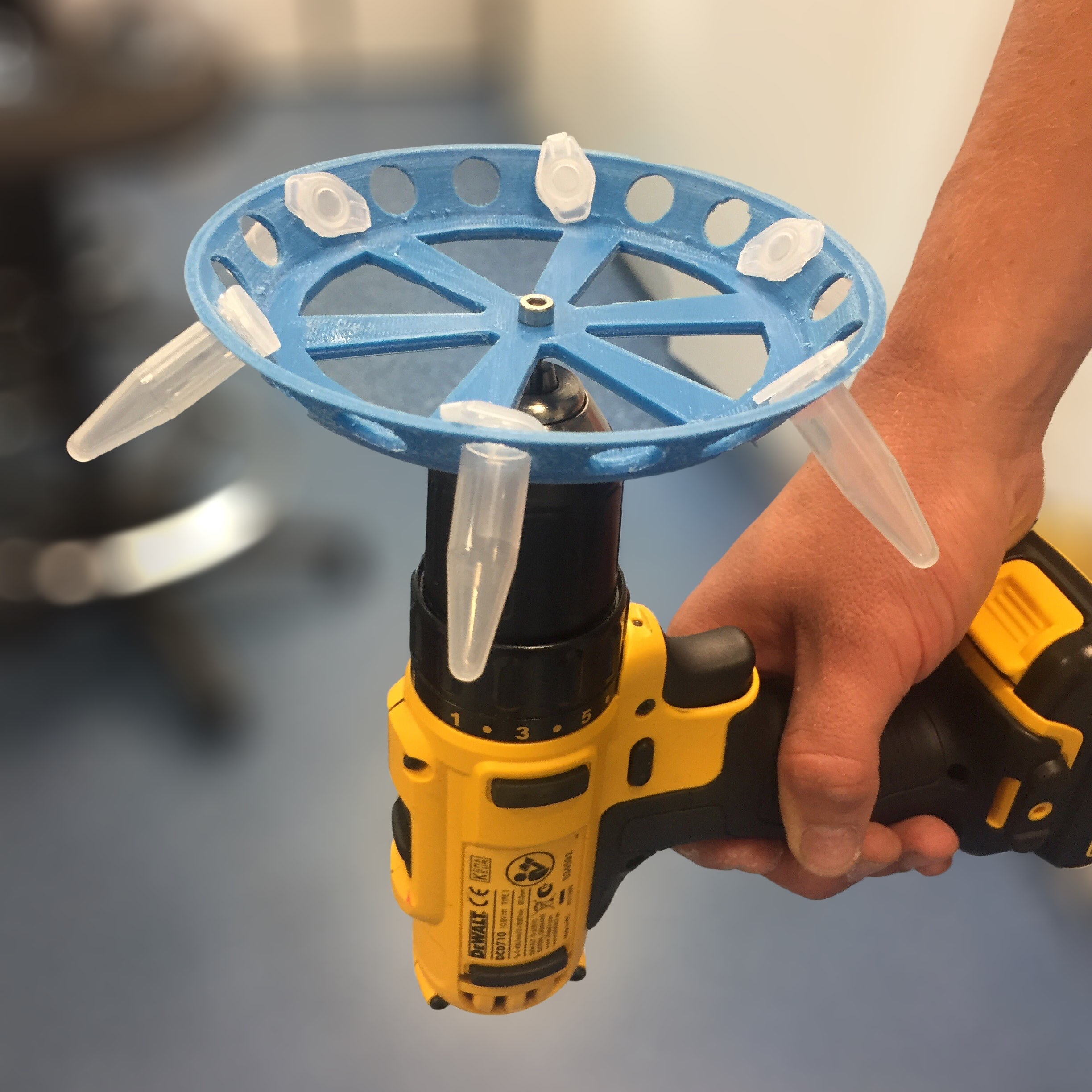 This design is easier to print than the hinged drill design since it is printed as a single part. The tubes are held at a 45° angle to minimise mixing during centrifugation. This design can also be utilised with a bench or hand drill and has the same limitations as the hinged design.
This design utilises the power generated by untangling the string to rotate the centrifuge with a six Eppendorf tube capacity. This design was eliminated since the centrifuge changes directions mid-spin and mixes the blood, inhibiting separation of the blood constituents.